Are You Afraid of Outliving Your Retirement Savings?
Retirees are reluctant to take money out of retirement accounts for fear of running out.
Each week, Consolidated Credit searches for financial research that can help you deal with your debt and budget. This week…
The interesting studies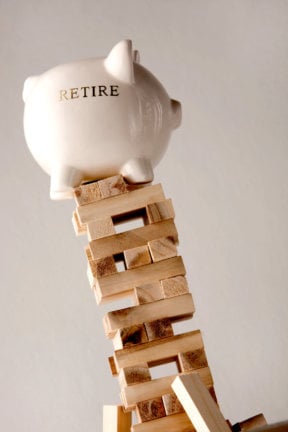 There have been two reports in the past month that both focus on the same topic – that if you're like most Americans, you fear outliving your retirement savings.
 The big result
Whether you're young or old, one of your biggest financial fears is outliving your retirement savings.
67% of Millennials worry their savings will run out after retirement
Meanwhile, 68% of Baby Boomers already in retirement have not touched and of the money they saved
Only 21% feel confident about taking money out of their accounts
The fascinating details
Ameriprise's survey asked 1,000 retirees who have retirement assets of $100,000 or more. But most of their respondents had significantly more than that. The median savings was $839,000. So, the survey asked people who should have some confidence, and yet they still had that fear. Part of the reason could be that 1 in 4 respondents said they'd fallen short of how much they wanted to have saved by $250,000 or more.
Another problem may be how much people understand about investing retirement account money. Ameriprise found 59% of retirees say that managing investments is too complex to understand. The good news for Baby Boomers is that they have other sources of retirement income that they can rely on.
72% of retirees surveyed said that pensions are an important source of income
71% rely on Social Security benefits
But the generations behind them aren't so lucky. Gen X is the first generation that largely has no access to pensions, which have been substituted for 401(k) investment plans. What's more, the Social Security administration estimates that Social Security will run out in 2034.
That could explain why Millennials have so much concern over retirement, even though they're still 20-30 years away from retiring.
2/3 of Millennials have nothing saved yet
Even though 2/3 have access to employer-based retirement plans, only 1/3 have set one up and started contributing
Millennials also face the challenges of an increasingly "gig" economy. Many positions are part-time or only on a temporary basis. Over half of Millennials surveyed had not been with their company for more than a year.
Of the Millennials that have saved, the average savings is $67,891, but the median savings is just $19,100. That means most Millennials are nowhere near the recommended retirement savings you should have by the time they hit age 35. According to experts, you should have retirement savings equal to one year of annual gross salary saved by age 35.
What you can do
"Outliving your retirement savings is a real fear for a number of reasons," says Gary Herman, President of Consolidated Credit. "People are living longer and heading into retirement with less savings and more debt. It's no wonder that both retirees and pre-retirees lack confidence in their savings. Because the reality of actually outliving your retirement savings can be a very scary prospect."
Herman offers these tips for pre-retirees and tips for people already in retirement:
For pre-retirees:
If your employer offers a 401(k) plan and you have not signed up yet, see if you're eligible.
If your employer offers a match program, make sure you're contributing enough to get all the free money available. We explain match programs in our free 401(k) guide.
Don't make the mistake of thinking you need to be debt-free before you start saving for retirement – it's a good way never to start saving
Talk to a certified credit counselor for a free evaluation if you're carrying credit card balances over month-to-month. Some solutions can reduce your monthly payments, which would give you money to save for retirement while you pay off debt.
We're also offering a free webinar next month called the Gen X Retirement Guide. Even if you're a Millennial, it will teach you everything you need to know to get prepared for retirement. That way, you can start feeling more secure.
Saving for your golden years despite the challenges of being part of the Sandwich Generation
Join us Wed, 09/12/2018 1:00 pm (EST) for a free webinar
For retirees:
Avoid debt when possible, since you're living on a fixed income and may be relying on monthly Social Security payments. If you already have debt, then find solutions for paying it down quickly.
If you haven't already, make a budget based on your fixed retirement income. This will help ensure you spend less than you earn so you can avoid debt.
If you haven't already, talk to a fiduciary financial advisor that specializes in helping consumers who are already retired. They can help you assess your savings to determine how much you can safely withdraw.
Also keep in mind that two of the three main types of retirement accounts require you to start making withdrawals by age 70½. That includes both 401(k) plans and Traditional IRA accounts. You must start making withdrawals, whether you're fully retired or not and whether you need the money or not. If you don't need the money, make the withdrawals and then reinvest it.
Roth IRAs do not have this requirement, so there is no set age where you must start withdrawing your funds. This means you can save those savings and let them continue growing. This can be especially useful if you have a 401(k) and Roth IRA. You can start making withdrawals from the 401(k) and leave your IRA funds for later.
---