How Do Americans Plan To Spend This Holiday?
Research of the Week: Consolidated Credit's 2017 Holiday Spending Survey
Is America facing a "gift gap" to complement our wage gap?
Each week, Consolidated Credit searches for financial research that can help you deal with your debt and budget. This week…
The interesting study
This week's study focuses on Consolidated Credit's own holiday spending survey. Each year, we ask people who are working to pay off debt how they plan to spend for the holidays. As the most expensive shopping season of the year, the winter holiday shopping season places an immense burden on low and middle-class households. This year, that burden seems to be taking an even bigger toll.
Consolidated Credit polled 1,263 adults that have contacted our organization for credit card debt help. These are the results…
The big result
If you look at national surveys of the general population, Americans will spend more this year on the holidays. According to the National Retail Federation,  the average household will spend $967 this year; that's up from $935 last year.
However, Consolidated Credit's survey respondents overwhelmingly say that they will spend less instead of more.
Do you plan to spend more or less than last year?
More
17.18%
Less
82.82%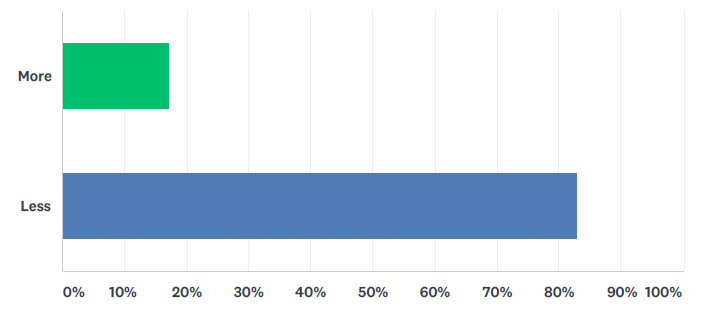 In addition, over three quarters of respondents (78%) say that they plan to spend less than $500 this year.
What's your holiday budget?
$0-$10
4.48%
$20-$100
14.56%
$101-$200
15.36%
$201-$300
17.68%
$301-$400
12.64%
$401-$500
13.68%
$501-$600
8.80%
$601-$700
3.12%
$701-$800
3.60%
Over $800
6.08%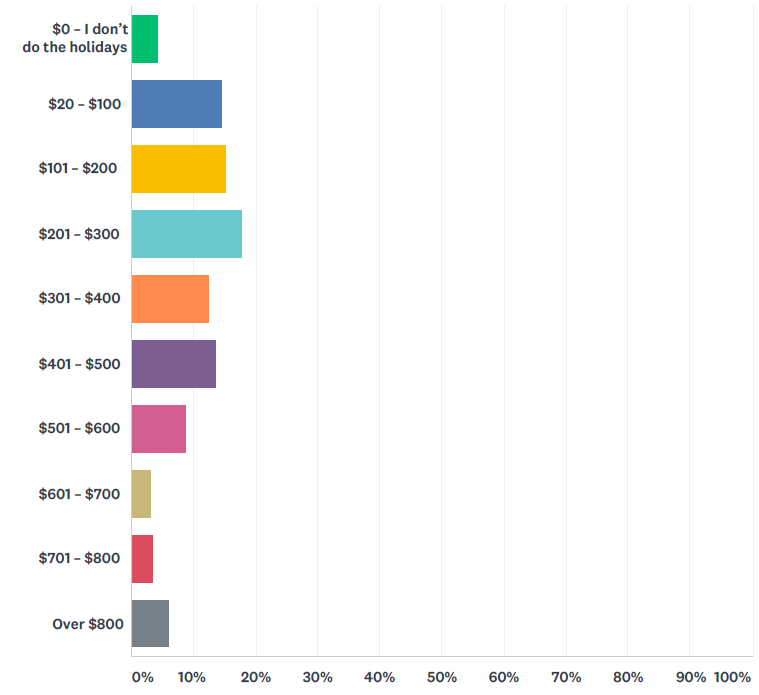 Most – if not all – of that budget will be used on gift giving in most households:
How much of your budget will be used for gift giving?
0-20%
15.23%
21-30%
7.57%
31-40%
4.92%
41-50%
6.53%
51-60%
6.20%
61-70%
7.33%
71-80%
11.85%
81-100%
40.37%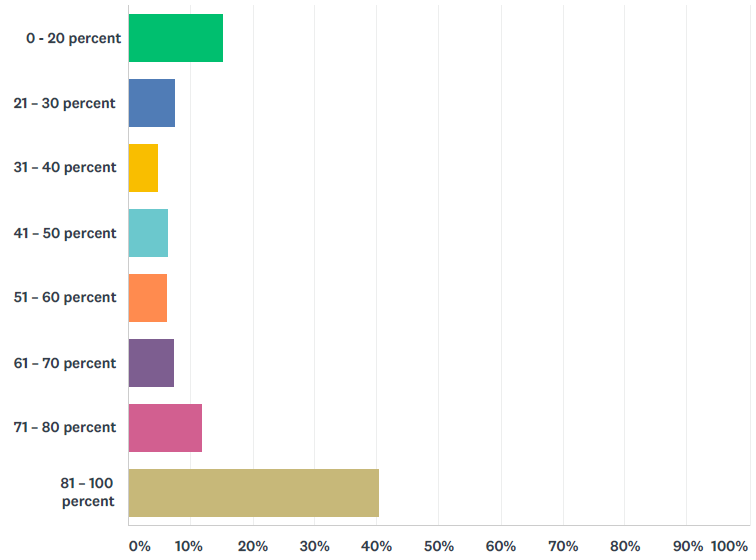 More fascinating details
We also asked those who said they would spend less to tell us why. Most of the answers point to a lack of financial stability, from economic uncertainty to decreased income to less savings.
Why do you plan to spend less this year?
The economy is worse
16.17%
I didn't save as much this year
24.74%
I have less income (job loss/pay cuts)
25.02%
I'm doing a gift swap with a few people
8.57%
I plan on giving mostly handmade gifts
7.12%
Other
18.38%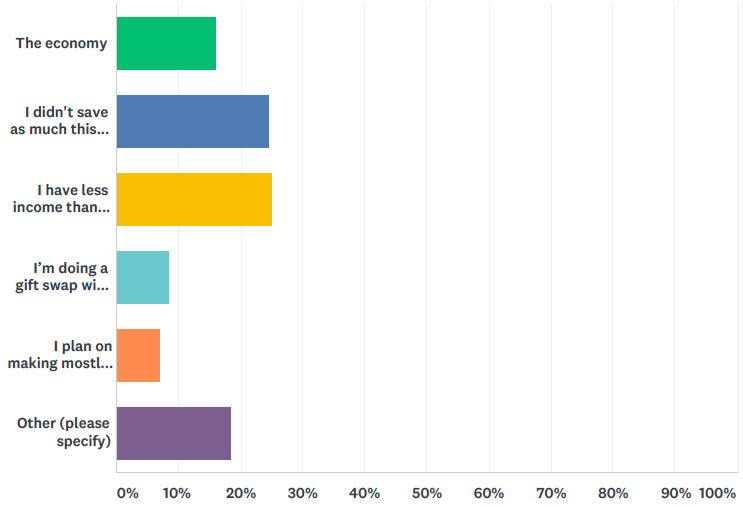 "Other" includes reasons from buying a home to wanting to save more money this year. Interestingly enough, those who said they would spend more didn't cite more prosperity as the reason. In fact, one in four said their family had grown so there were more people to buy for this year. Others say they feel pressure to make their loved ones happy, and that they simply love spreading joy and good cheer.
Why do you plan to spend more this year?
The economy is better
7.44%
My family grew
27.44%
I got a promotion/raise
5.58%
I expect a big bonus
3.72%
I get joy from giving to others
22.33%
I want to make friends and family happy
16.28%
I saved more this year
17.21%
That makes sense, given that gift giving represents the largest part of people's budgets tend to go towards gifts. This year, almost half (48%) of our respondents said they would buy gifts for about 1-5 people. However, one in three (34%) said they needed to buy for 6-10 people.
How many people are you shopping for?
1-5
48.02%
6-10
34.87%
11-15
11.70%
More than 15
5.41%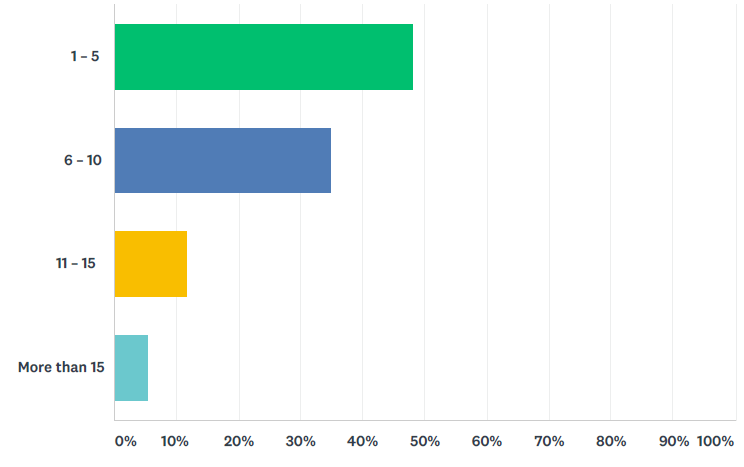 The good news is that people may be getting smarter with the extras. Most respondents are skipping pet gifts this year and those who won't at least plan to be frugal.
Do you plan to buy gifts for your pets?
Yes
32.50%
No
67.50%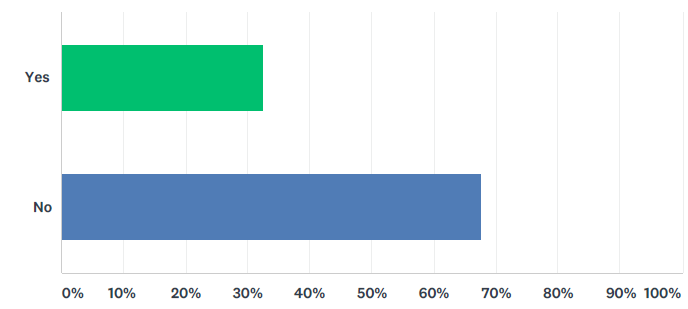 How much do you plan to spend on your pets?
$0-$25
68.66%
$26-$50
22.89%
$51-$75
5.47%
$76-$100
1.00%
Over $100
1.99%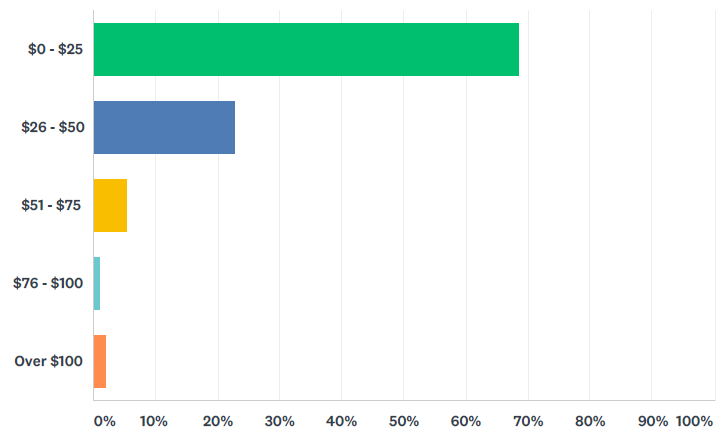 It's also encouraging to see that only one in four Americans plan on self-gifting this year
Will you buy a gift for yourself this year?
Yes, I never mean to but there's always something on sale that I want
26.07%
No, this is a time to give to others, not yourself
73.93%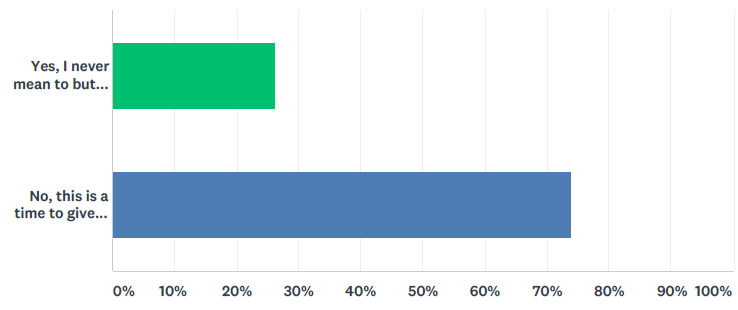 In addition, although most indebted households still plan to donate money to charity this year, more than 90% plan to donate less than $100. When we asked the families in the same situation last year, only 35% planned to donate less than $100.
Do you plan to donate money during the holidays?
Yes
59.12%
No
40.88%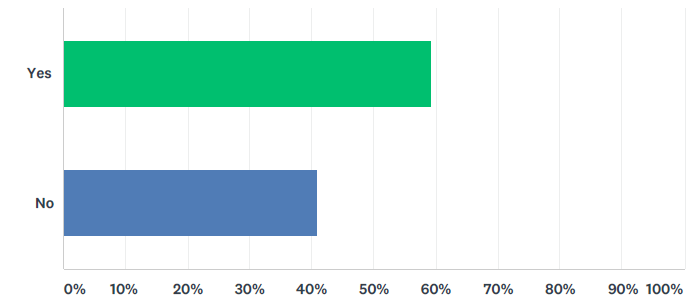 How much do you plan to give to charity?
$0-$20
31.17%
$21-$30
19.92%
$31-$40
5.83%
$41-$50
17.89%
$51-$60
4.88%
$61-$70
1.08%
$71-$80
1.22%
$81-$100
10.03%
Over $100
7.99%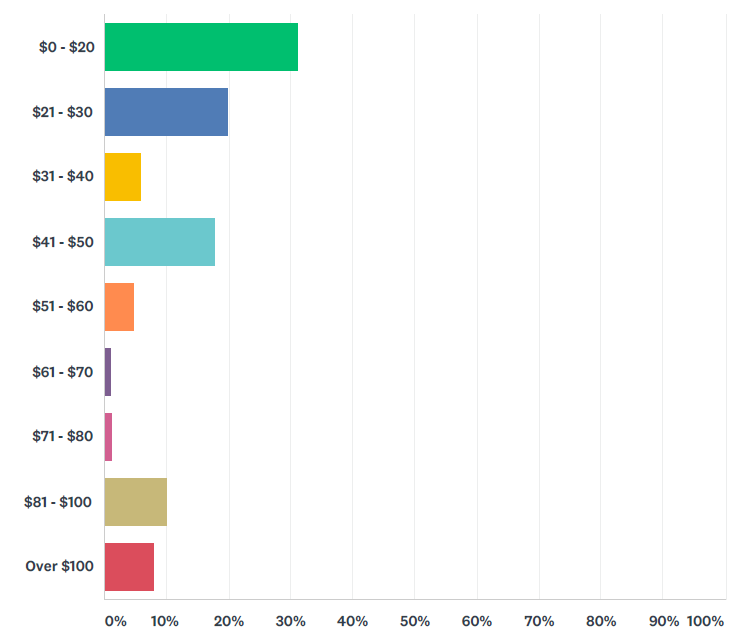 As far as other holiday expenses go, nearly two thirds (66%) of respondents will spend less than 20% of their holiday budget on entertaining.
How much of your budget will be used for entertaining?
0-20%
66.45%
21-30%
19.92%
31-40%
6.94%
41-50%
3.72%
51-60%
1.49%
61-70%
0.58%
71-80%
0.25%
81-100%
0.66%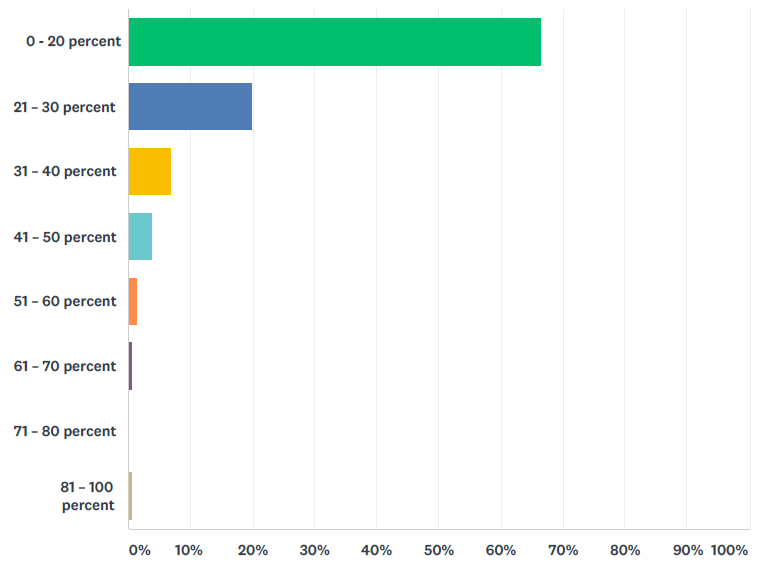 Most people we asked are not travelling for the holidays; the majority who are say they plan to drive to save money. As a result, most will also spend less than 20% of their holiday budget on travel.
Will you travel this season?
Yes
17.29%
No
82.71%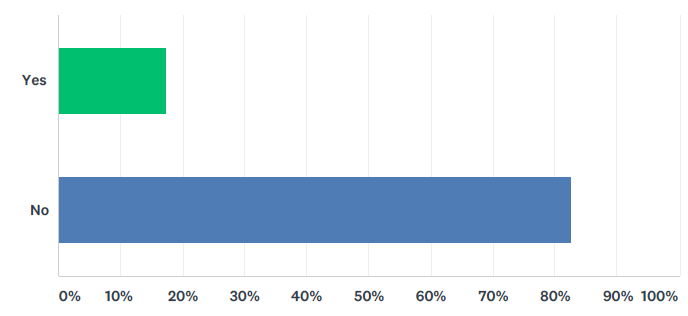 How do you plan to travel?
Fly
20.38%
Drive
75.83%
Cruise
0.95%
Public Transportation
2.84%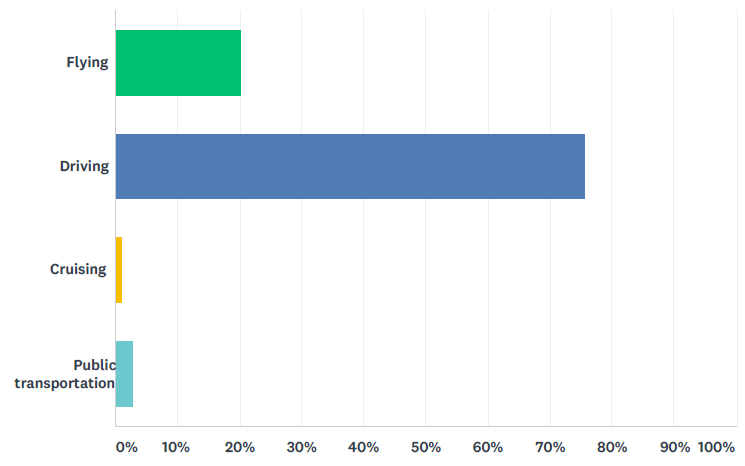 How much of your budget will be used on travel?
0-20%
70.19%
21-40%
21.63%
41-60%
6.25%
61-80%
0%
Over 80%
1.92%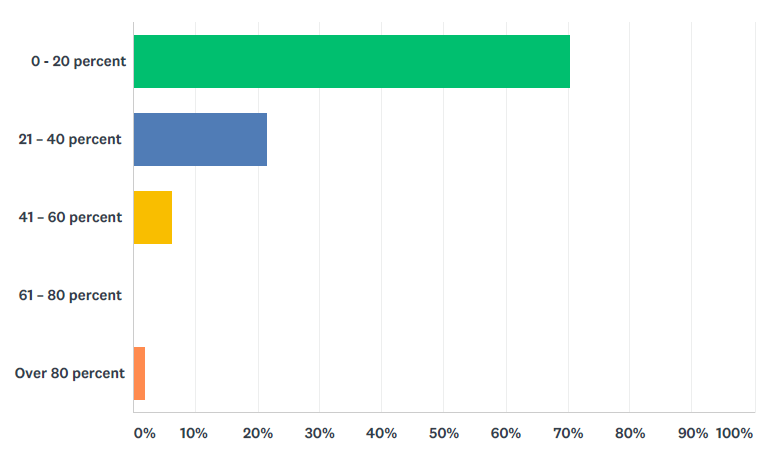 People also have learned to shop smarter, which usually involves shopping earlier. In fact, over one third of respondents say they shop year-round now, as items go on sale.
When do you shop? (check all that apply)
Year-round as items go on sale
34.90%
Right after the holidays end (for next year)
8.31%
Black Friday
30.86%
Cyber Monday
18.77%
Throughout November
37.78%
I'm a procrastinator, so just before the holidays
21.23%
Other
6.83%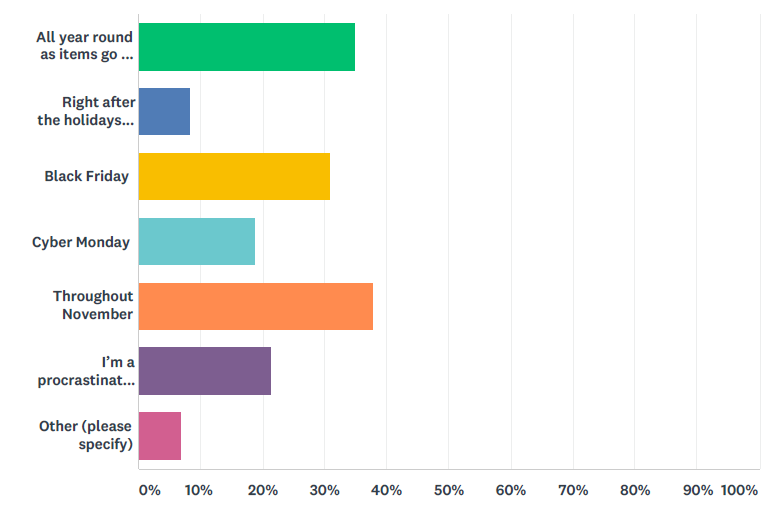 That allows many shoppers to avoid using credit to cover holiday expenses; they can use savings or cash instead. However, 42% still say they use credit cards to cover at least some holiday expenses.
How do you cover costs? (check all that apply)
I save all year
35.35%
I use my year-end bonus
20.38%
Credit
41.98%
Gift cards / rewards
38.79%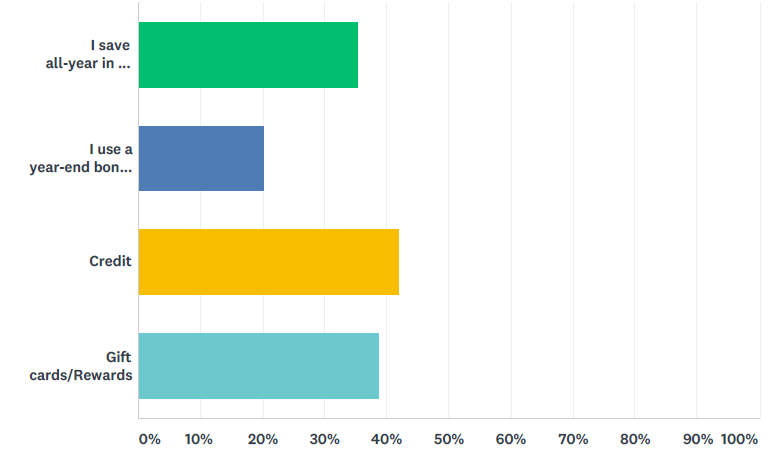 That's in line with the number of people who told us they incurred holiday debt last year. Only about 45% said they did. Out of that number, over two thirds (70%) said they're still paying off last year's debt.
Did you incur debt last holiday season?
Yes
45.97%
No
54.03%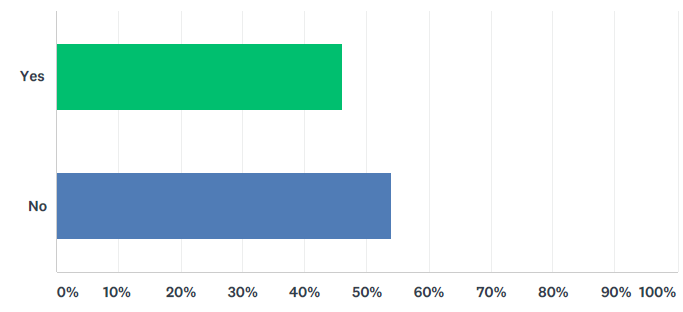 Are you still paying last year's debt off?
Yes
69.73%
No
30.27%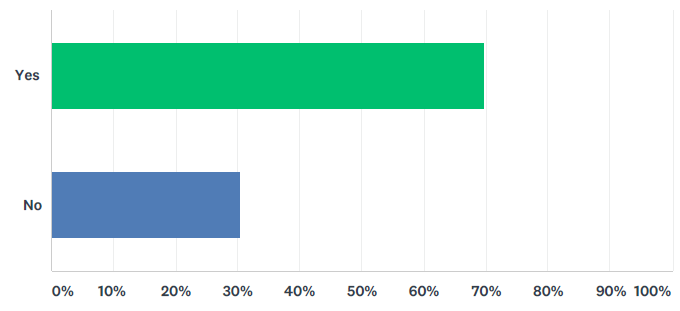 What you can do
"Households need to budget carefully for the holiday shopping season," says April Lewis-Parks, Consolidated Credit's Financial Education Director. "It's encouraging that families that have reached out to us for counseling plan to spend less than average Americans. But they need to plan carefully and stick to that budget if they want to keep that goal."
The concern is that while families may plan to spend less than $500, that things like impulse purchasing and last-minute gift giving could jack that price tag up.
"If you plan to spend $500 and then end up spending $900, it's very likely that the added costs will end up on credit," Lewis-Parks explains. "In order for your holiday budget to be effective in keeping you out of debt, it must be accurate."
Consolidated Credit offers these resources to help you stay on-budget:
Featured Video:
Holiday Shopping Tips
Consolidated Credit helps you shop smart this holiday shopping season so you can stay on-budget and avoid a holiday debt hangover.
No matter how much people love the holidays or how well they've planned, many people find themselves frazzled at some point. This publication can help them spend some time thinking about what they really want, and create a plan for how they want to spend their time, energy and money.
---