DIY Thursday: Create the perfect meal for your mom this Mother's Day
Mother's Day is a day set aside to honor all of the mothers of the world. This year, give the mother in your life a day off and cook her a full meal that includes drinks, appetizers, and a dessert. Here are some recipes that won't cost you much money or time, but will leave the mother in your life speechless.
Drinks – "O Fizz"
(From Oprah Magazine)
Ingredients:
• 3 teaspoons of sugar (or simple sugar)
• 12 fresh mint sprigs
• 3 ounces of fresh lime juice
• Ice
• 8 ounces of vodka
• Cranberry juice
• Champagne or sparkling wine
• Fresh raspberries
Directions:
1. Add 3/4 teaspoon of sugar (or simple sugar), 3 mint sprigs, and 3/4 ounce of fresh lime juice to a cocktail shaker.
2. Muddle ingredients with a longhandled muddler or bar spoon.
3. Add ice to the shaker.
4. Add 2 ounces of vodka and a splash of cranberry juice.
5. Shake vigorously and strain into a flute.
6. Top the glass of with champagne (or sparkling wine) and garnish with a few fresh raspberries and a sprig of mint.
7. Repeat steps for each glass made.
Appetizer – "Apple Deviled Eggs"
(From Robert Irvine of Food Network Magazine)
Ingredients:
• 6 hardboiled eggs
• 1 shallot
• 1/2 green apple
• 1 teaspoon of parsley
• 2 tablespoons of mayonnaise
• 1/2 teaspoon of Dijon mustard
• Salt
• Pepper
• Lemon thyme (or mint)
Directions:
1. Cook 1 diced shallot in butter for 2 minutes.
2. Add diced green apples, and cook for one minute.
3. Add 1 teaspoon of chopped parsley, then let cool.
4. Mash the yolk of6 hardboiled eggs and then add the apple mixture.
5. Add mayonnaise, Dijon mustard, and a dash of salt and pepper to the mix.
6. Spoon mixture into egg whites.
7. Top off with lemon thyme (or mint) for garnish.
Entrée – "Chicken Marsala Florentine"
(From Shanou of AllRecipes.com)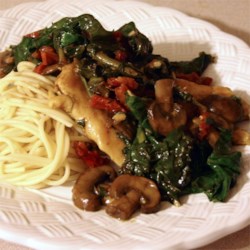 Ingredients:
• 4 bonesless, skinless chicken breast halves
• 1/4 cup of all-purpose flour
• Salt and pepper
• 1 tablespoon of dried oregano
• 2 tablespoons of olive oil
• 3/4 cup of butter
• 3 cups of sliced Portobello mushrooms
• 3/4 cup of sun-dried tomatoes
• ½ cup of packed fresh spinach
• 1 cup or Marsala wine
Directions:
1. Place check breasts between two pieces of wax paper, and pound to 1/4 inch thick with a meat mallet.
2. Dust chicken with flour, salt, pepper, and oregano.
3. In a skillet, fry chicken in olive oil over medium heat. Cook until done, turning to cook evenly. Set aside and keep warm.
4. In the same pan, melt the butter over medium heat. Add mushrooms, sun-dried tomatoes, and Marsala wine.
5. Cook for approximately 10 minutes, stirring occasionally.
6. Mix in spinach, and cook for about 2 minutes.
7. Serve over chicken.
Desserts – "Slipper Cookies"
(From Spoonful.com)
Ingredients:
• 2 halves of an oval sandwich cookie
• 1 donut hole
• Frosting
• Shredded coconut tinted with red food coloring
• Pink decorator's gel
Directions:
1. First separate the 2 halves of an oval cookie sandwich and remove the filling with a butter knife.
2. Slice a donut hole into thirds.
3. Coat the rounded sides of the two end pieces with frosting.
4. Once coated, roll them in shredded coconut tinted with red food coloring to create a pair of fuzzy slipper tops.
5. Use a dab of frosting to stick each slipper top to the cookie sole.
6. Adorn the edges of the cookies with the pink decorator's gel for the shoe stitching.
---