7 signs you need to cash in your rewards – now!
By Tony Mecia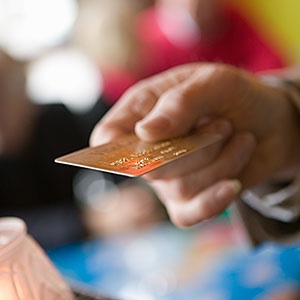 Some people collect baseball cards. Others favor classic cars or coins. But one item you should not hoard, experts say, is credit-card reward points.
It can be tempting to stockpile reward points and envision a far-flung, luxurious vacation someday, paid for with the trove of airline frequent-flier miles and hotel points you've gradually accumulated.
But the reality of miles and points is that they are like other currencies that become less valuable over time. Not only can they expire, but the airlines, hotels and other companies that accept them are continually increasing how many you need to cash in to receive an award. Instead of collect and nurture, think earn and burn.
"It's like a car: You're holding onto a depreciating asset," says Matthew Kepnes, who blogs about budget travel at NomadicMatt. "The million miles you have today are not going to be worth the million you have tomorrow."
But how do you know when to offload them? Check out the seven signs in the slideshow below.
You receive an email touting "enhancements" or "exciting changes" regarding your award program
It is possible there will be some upside to award-program changes, but they're likely to be accompanied by changes you'll find less favorable.
Best advice: Read the fine print to find out when the changes take effect. If an airline is raising the number of miles required for a free trip, for instance, you might be able to book a trip at the lower level if you act fast.
Your points are expiring
Points in many airline and hotel programs expire somewhere between one and three years if you have no activity in your account. So if you don't plan to add or subtract miles to your account for a while, you'll want to cash them in to avoid the doomsday scenario of having your points eviscerated at the deadline.
Best advice: If you have trouble keeping track of the expiration dates, services such as AwardWallet and TripIt can track them, though you might have to pay a fee for premium versions. To keep your points active, consider small transactions, such as buying a $1 iTunes voucher in the rewards program's online shopping portal, or redeeming a few hundred points for newspaper or magazine subscriptions.
You reach your goal
Maybe you're shooting for 60,000 United miles for a round-trip flight to Europe, or 40,000 Hyatt points for two nights at the Hyatt Regency Lake Tahoe. When you hit it, book it, says Geoff Whitmore, founder of NoobTraveler, a site that focuses on travel rewards. "You should always have a goal when you're earning miles and points, and once you have enough points for that specific goal, it's time to redeem," he says.
Best advice: Develop a plan for using your miles and points, and research how many you'll need to achieve your goals.
Your credit card is too expensive and gathering dust
Maybe the annual fee is coming due, or you decide it's time to purge cards you no longer use. If your points are with an airline or hotel program, they'll stay there even if you cancel the credit card, so no need to book something right away. But if your points are with a card issuer — such as programs run by Capital One, American Express, Bank of America or Chase — then your points will disappear if you have no cards affiliated with that account.
Best advice: If you're not ready to pull the trigger on a trip but want to ditch the card, consider downgrading to a no-fee alternative, such as Capital One's VentureOne Rewards card, the Chase Sapphire card or the American Express Blue Sky card. The rewards aren't as rich as their annual-fee brethren, and some come with new restrictions on using points, but your points won't disappear into the ether.
You have too many miles
It's a good problem to have, and it's hard to say how many is too many. But if you're racking up miles and points with no plan and you rarely spend them, you should.
Best advice: If you're a serious hoarder, consider premium rewards such as business- or first-class plane tickets or hotel suites, which many consider the best value in award travel – and those most likely to be re-priced to cost more when travel programs change. If you're in a giving mood, you can also donate them to charity or redeem them for friends or family members.
There's a sale or bonus on redeeming points
Card companies will occasionally offer deals, and if they work for you, jump on them. For instance, in the last few months, American Express offered bonus miles when you transferred to Virgin America, Best Western, British Airways, Iberia and Hilton. Airlines such as Air France and Lufthansa regularly offer discounts in the number of miles required, such as a Lufthansa offer in April to fly round-trip in business class between Boston and Amsterdam for just 55,000 miles.
Best advice: Make sure you're signed up for marketing emails from the loyalty programs in which you have points. It also can make sense to follow the programs on social media like Twitter, and to occasionally read about offers on blogs such as The Points Guy.
You can find the fight you want
It sounds straightforward, but securing award space on a schedule that works for you can be tough. "Getting availability is one of the trickiest parts and can require months of planning ahead," says Nicholas Felten, founder of the blog Personal Finance Digest.
Best advice: If you see what you want, don't dawdle. Book it. Some flights might have just one or two seats available for awards, if they have any at all. Professional award bookers say the most seats are available when the flight is available for booking, usually around 330 days ahead of time. To find availability, consider pay services such as KVS, ExpertFlyer and Award Nexus.
Tony Mecia writes the Cashing In column for CreditCards.com, answering a question every week about credit card rewards. Got a question? Ask Tony. Mecia is a freelance business writer based in Charlotte, N.C. In addition to writing Cashing In and articles for CreditCards.com, Tony writes for a variety of trade and general-interest publications and companies. As a reporter and editor with the Charlotte Observer, he won "Best in Business" awards from the Society of American Business Editors and Writers for his coverage of the airline and textile industries.
---