DIY Thursdays: Add a Bit of Sweetness to your Easter
Everybody loves a sweet, savory dessert. This Easter add some pizazz to your table and create cute and simple Easter-themed desserts.
Easter Rice Krispy Treats
Ingredients
• 1/4 teaspoon of water
• 2 – 4 drops of green food coloring
• 1/2 cup of flaked coconut
• 3 tablespoons of butter or margarine
• 1 bad of jelly beans or chocolate eggs
• 1 10-ounce package (about 40) regular marshmallows or 4 cups of miniature marshmallows
Instructions
1. Spray two regular size muffin tins or one large muffin tin with cooking spray.
2. Make sure that you have 16 2 ½-inch muffin cups.
3. In a small bowl stir together water and the green food coloring. Add coconut. Stir until the coconut is tinted.
4. Spread coconut out on to baking sheet to dry.
5. In a large sauce pan, melt down butter over a low heat.
6. Add marshmallows and stir until they are completely melted. Remove from heat.
7. Add Rice Krispies cereal.
8. Stir until the Rice Krispies are well coated.
9. Divide the warm mix into prepared muffin tins.
10. Shape the mixture into individual cups and cool.
11. Once they have cooled, remove them from the pans.
12. Fill cooled nests with coconut, marshmallows, jellybeans, or chocolate eggs.
Salted Caramel Eater Popcorn
ingredients
• 6 cups of plain popped popcorn
• 2 cups of coarsely chopped salted pretzels
• 1 cup of granulated sugar
• 1/2 teaspoon of sea salt, plus more for sprinkling
• 1/4 cup of water
• 1/3 cup of heavy cream
• 1/2 teaspoon of vanilla extract
• 1 cup of miniature marshmallows
• One drop of red food coloring
• 1 ½ cups of Easter Pretzels M&Ms
Instructions
1. In a large bowl, combine popcorn and pretzels. Set to the side.
2. In a medium saucepan, bring sugar, 1/2 teaspoon of salt, and water to a boil over medium heat.
3. Boil undisturbed until the water turns into an amber color, for about 8 – 12 minutes.
4. Remove the pan from the heat and slowly pour in the heavy cream.
5. Stir until smooth and add vanilla extract, marshmallows, and a drop of red food coloring.
6. Stir until the marshmallows are melted and the mixture is smooth.
7. Pour caramel mixture over the popcorn and pretzels.
8. Gently stir with a rubber spatula until the popcorn is well coated.
9. Stir in the pretzel M&M's.
10. Transfer the mixture into a large baking sheet and sprinkle with sea salt.
11. Let it sit and cool completely.
Carrot Cake Pops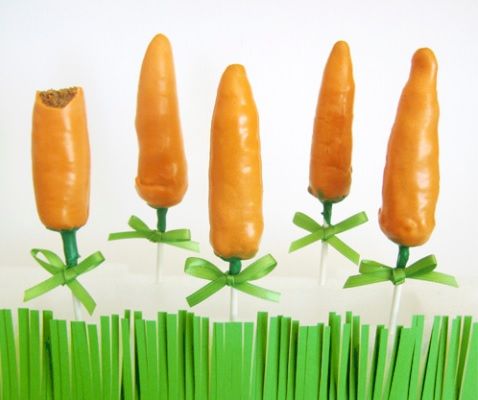 Ingredients
• Carrot cake mix
• Cream cheese frosting
• 3 cups of orange candy melts
• 1/2 cup of green candy melts
• Lollipop sticks
Instructions
1. Bake your cake according to the instructions on the cake package. Let cool.
2. Crumble baked cake into a bowl and mix with 2/3 of frosting.
3. Take about 1/6 cup of cake and form into a carrot shape.
4. Chill in the refrigerator for an hour.
5. Melt green candy melts.
6. Dip about 1 ½-inch of lollipop.
7. Insert 1-inch into the chilled carrot cakes. Take note that the candy melt will automatically pool around the lollipop stick.
8. Melt orange candy melts in a tall, narrow container.
9. Dip the carrot cakes.
10. Tap of excess by holding the stick with one hand and flicking the tip of the stick with fingers of the other hand.
11. Stick into a Styrofoam block and let it dry
Jessica Williams is Consolidated Credit's Marketing Communications New Media Coordinator. As a member of the education team, Jessica focuses on helping consumers make better financial decisions while living debt-free. She has previously worked with Take Stock In Children, where she was a mentor and communications specialist, and SouthPromo.com, where she managed community relations, event planning, marketing, and public relations. Jessica attended both the University of Florida and the University of Central Florida where she received her B.S. in Interpersonal/Organizational Communications and Marketing. Connect with Jessica on Google+.
---