DIY Thursdays: Easy Do-It-Yourself Projects That Boost the Value of Your Home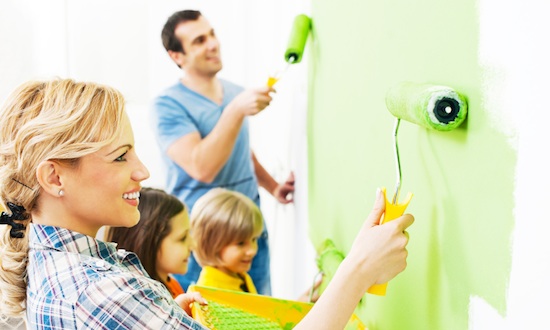 With Spring in the air, it's no better time that now to take care of those small home improvement projects that you have been putting off during those cold winter months.
You can start by initiating a little spring cleaning to get rid of those things that you don't need or use any longer. Once that's done, you will have a little more space available to begin your home improvement projects.
Reorganize Your Closet
Start by getting rid of the clothes that you no longer wear. Store your most-used items in plain sight and put the less-used items up high or in a storage container. Purchase storage containers of various sizes and use them and you closet space as needed. Use drawer space for folded items, hangers for dresses and suits, and boxes for odds and ends. Keep in mind that using coordinated hangers give your closet a clean look that will help your care for your clothes better as well as it will help you to stay more organized.
Replace Your Shower Head
This is a simple task that requires three simple items: a new shower head, an adjustable wrench, and Teflon tape (plumber tape). Once you choose the shower head that you want to have installed, remove the old one by using your wrench to grip the neck of the old shower head and turn it counter-clockwise. Once the shower head loosens up, remove it and remove all of the access material like the dirt, rubber gaskets, residue, and plumber tape. Once everything has been removed, wrap the threads of the pipe with the Teflon tape and install the replacement shower head. You don't even need to use the wrench to tighten it, unless the directions say so. The last thing you will need to so to ensure that it was installed correctly is to check for leaks.
Pressure Wash Your Sidewalk and Drive Way
Clear debris and excess from the area you will be pressure cleaning. Cover nearby exterior walls and doors with plastic sheeting or painter's tape. Make sure before you plug up the machine you have read the safety manual thoroughly. To maximize the cleaning effect, spray degreaser on the concrete that you will be cleaning. Then attach the wand tip for the detergent and the pressure-washer hose and wand to the pressure washer. Begin the pressure washing process. Once you have completed that, ass waterproof sealer onto concrete surface and allow 24 hours to pass before walking or parking on surface.
Paint Your Home
Adding a fresh coat of paint to any home can make it look brand new. You can choose to paint your entire home or just the trim. Also you can choose to paint the outside or the inside of the house. You can also add a new splash of color to those kitchen cabinets if you can't afford to get new ones. They key to having a successful paint job is all in the preparation work. This includes being neat and taping around windows and cutting around the ceiling. Also you can choose to just paint your front door or the garage door. No matter how small the change, it can still stand out and make a major difference.
Changing Your Kitchen or Bathroom Hardware
This is definitely one of the easiest home improvement projects that you can do to give your kitchen or bathroom that new, fresh feeling. Be sure to make sure that the new hardware will fit the existing holes. If not the project can become more tedious than expected and will require filling old holes and drilling new ones. Measure the distance between the holes for pulls and make sure to bring an old knob with you to the home improvement store for a size comparison. This will ensure that the newly purchased items will fit snug. Also check online for price comparison as you will probably find a better price online than you would for the same item in a home improvement store.
There are many small and easy DIY home improvement projects that you can do to add a fresh look to your home. Don't be afraid to try new thing and bright colors.
Jessica Williams is Consolidated Credit's Marketing Communications New Media Coordinator. As a member of the education team, Jessica focuses on helping consumers make better financial decisions while living debt-free. She has previously worked with Take Stock In Children, where she was a mentor and communications specialist, and SouthPromo.com, where she managed community relations, event planning, marketing, and public relations. Jessica attended both the University of Florida and the University of Central Florida where she received her B.S. in Interpersonal/Organizational Communications and Marketing. Connect with Jessica on Google+.
---