Giving Charity Gift Cards for Presents Lets Recipients Donate to Their Favorite Causes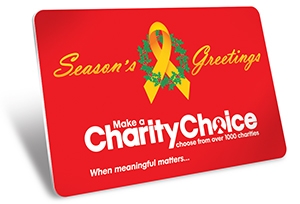 Start a new tradition this Christmas and give the gift of giving by buying charity gift cards for your loved ones that gives them the opportunity to protect their favorite endangered species, feed starving children, protect abused animals, or to even help fund an international opera.
At first glance these cards look like traditional gift cards; they just work a little differently. These cards range in price from $10 to over $5000. Once the card has been purchased, the gift's recipient will get to pick a charity from a pre-selected list of nonprofit organizations and the money will be sent to the group of their choosing.
And of course before you purchase this gift, make sure that you have done your research on the best one to purchase.
Pros of Giving Charity Gift Cards as Presents
• Tax Breaks. When you purchase a charity gift card, your purchase is considered a donation which can be written off on you income tax return.
• Recepient is the Final Decision Maker. The recipient gets the fun and important task of choosing which cause is most important.
• Gift Personalization. Most charity gift card companies allow you to choose from several card designs. Some companies even allow you to upload your own artwork or photo to make the card more personal.
• Less Pre-donation Legwork for the Recipient. Of course with making any donation, you want to always do your research first. But some of these charity gift card companies have already done the legwork for you and have researched all of the organizations that they have decided to include on their lists.
Cons of Giving Charity Gift Cards as Presents
• Not All Money Goes To The Charitable Organization. When you donate directly to a nonprofit organization, 100 percent of your funds go to the cause. With charity gift cards, fees are skimmed off top. These fees can include the actual cost of the plastic used to make the card, postage, handling, administrative fees, and credit card processing.
• Expiration Dates. Some of these charity gift cards have expiration dates, So before you buy, see if it has an expiration date because with the hustle and bustle of the holiday season, gift cards can easily become misplaced, and by the time they are found, you wouldn't want to have lost the card's overall monetary value.
• Not Found in the Checkout Line. Charitable gift cards are not as widely available as other gifts cards are. Shoppers must actively seek them out and buy them ahead of time.
Always Read the Fine Print
Whenever you make a purchase of any type of gift card it is always important to make sure that you read the fine print before check out. With charity gift cards you want to make sure that you not only look at the total amount you want to donate, but at the total amount that you will have to pay to cover all fees.
Also prior to making a purchase, look at the card's full list of organizations that are recipients of the card. One gift card company may have a list of hundreds while another card's company may have a list of thousands.
Jessica Williams is Consolidated Credit's Marketing Communications New Media Coordinator. As a member of the education team, Jessica focuses on helping consumers make better financial decisions while living debt-free. She has previously worked with Take Stock In Children, where she was a mentor and communications specialist, and SouthPromo.com, where she managed community relations, event planning, marketing, and public relations. Jessica attended both the University of Florida and the University of Central Florida where she received her B.S. in Interpersonal/Organizational Communications and Marketing. Connect with Jessica on Google+ (https://plus.google.com/112988365558975458692/?rel=author).
---