Why Is My Homeowner's Insurance Premium So High?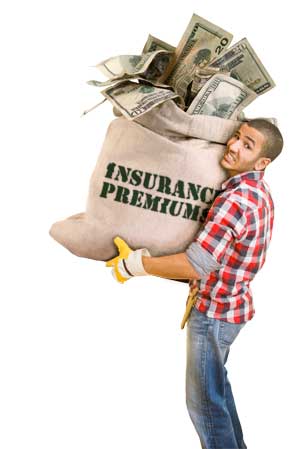 After purchasing your home, some strict budgeting is in order because you will be paying numerous new expenses, including homeowner's insurance. To help ensure you don't pay too much for coverage, it is important to understand what factors can drive up the cost of your plan.
No. 1 – Your neighborhood has a history of crime
If you can help it, you should probably avoid living in an area where break-ins are common. Not only could you be putting your family at risk, but you may also see your homeowner's insurance rate rise. With past instances of crime, insurers will likely see you as a higher risk of filing a claim, which means you will pay more than someone who lives in a safer neighborhood.
No. 2 – Your home is old
Fixtures breaking and causing damage is something insurance providers will consider when determining your rate. For this reason, it would be beneficial to live in a newer home, as systems in such a house are less likely to break. Additionally, older properties can have ornate features, which are often more expensive to replace – a factor that can also lead to higher premiums.
No. 3 – You have a pool in your backyard
There is nothing better than having a backyard oasis in the form of a swimming pool during hot summer days, but this luxury could be costly. Of course, you will need to pay to install the pool and maintain it, but your insurance rate will likely also increase after the project is completed. The reason insurers charge more money for people who have a pool because it creates additional liability risk.
For example, there is a chance someone would drown on your property, which can lead to legal troubles. However, there are ways to help limit risk associated with a pool, such as ensuring it is always covered and surrounded by a fence with a locked gate.
No. 4 – You're a dog owner
Dogs are man's best friend, but owning one could lead to a bump in your home insurance premium. Providers see homeowners with this type of pet as a risk because there is the chance they may bite, maim or kill someone on your property.
April Lewis-Parks has more than 15 years of experience in the financial sector, she is a certified financial counselor, and a consumer affairs advocate. As the director of education and public relations for Consolidated Credit she is dedicated to generating awareness about personal finance issues and acts as their consumer affairs advocate. As host the of MissMoneyBee.com, she promotes financial education and offers timely and informative personal finance articles to educate the public. April's promotional efforts can be seen in past issues of the New York Times, Washington Post, Newsday, Consumer Reports, the Business Journals, Money Magazine, Glamour, Cosmopolitan, Family Circle, among others. Connect with April on Google+.
---