Nine Steps Towards Cleaning Up Your Credit Score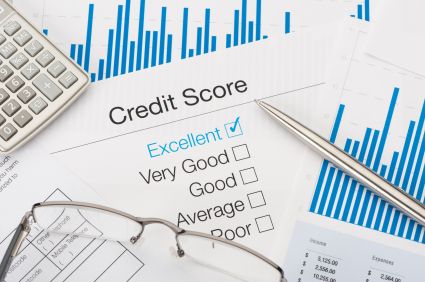 Before you can proactively begin repairing your credit, you need to know where you stand. Pull your credit report from one of the many free online sites, like CreditKarma.com, that offer this service. If you find that your scores are 760 or higher, then you are in good credit standing. If you are below 760, then these simple 9 steps can help you begin repairing your credit score.
1. If You Don't Have A Credit Card, Get One
Having and using a credit card can help in the quest to build your credit scores. If you are unable to qualify for a regular credit card, consider applying for a secured credit card. Secured credit cards are issued directly from banks and gives you a credit line that is equal to the amount of your deposits. Regardless of whatever type of credit card you apply for, make sure that it reports to all three credit bureaus: Equifax, Experian, and TransUnion.
2. Add An Installment Loan
You will find that your credit will increase faster with both revolving credit (credit cards) and installment credit (mortgages, personal loans, student loans, auto loans). If you have installment loans on your credit report, then pay them on time each month and you will see you credit score begin to rise. If you don't, consider applying for a small personal loan or thing about purchasing a car. Whatever you decide, make sure that you are able to make the minimum payments on time monthly.
3. Pay At Least The Monthly Minimum Due On Each Credit Card
Paying your credit card balances down can dramatically help raise your credit score. Keeping your credit card balances below 30% of the credit limit keeps lenders happy. They like to see a big gap between the credit that is being used and the available credit limit. If you are in the process of paying off your credit cards, then pay off the ones first that are closest to their limit, as opposed to those with a higher interest rate.
4. Use Your Credit Cards Lightly
It is a myth that the more you spend the higher your credit card score goes up. Spending too much and racking up large balances, can actually hurt your credit score, regardless of whether you make your full balance payments in full each month. Credit bureaus normally base their reports off of the balance that is reported on your last statement. If you normally use more than half of your credit limit each month on your card, then try using another card or making payments before the statement closing date.
5. Know Your Credit Card Balances And Limits
Your credit scores may be lower than they are supposed to be if a lender is showing that your limit is lower or that your balance is higher than it actually is. If brought to their attention, most credit card companies will quickly update your account information.
6. Use A Credit Card That You Haven't Used In A While
The older your credit history, the better you are. But keep in mind that if you stop using the credit card, the issuer may decide to close out the card's account and stop updating the credit bureau on your status.
7. Don't Be Afraid To Ask For Goodwill Adjustments
If you have a good payment history with a lender, then they might agree to delete a late payment from your credit history. You can usually make the request on the phone or in writing. If you have a more troubled account, then you can ask to have the account "re-aged." This is when the account is still open, but the lender agrees to erase previous delinquencies if you make a series of 12 or so on-time payments.
8. Dispute Old Account Balances
For example, if you were once faced with a bill that you felt was incorrect and unjust and it later went into collections and appeared on your credit report, then you can continue to protest that charge. The older and smaller the collection amount, then the more likely the collection agency is to no bother to follow up over the dispute.
9. Correct Important Errors That Appear On Your Credit report
Your overall credit score is calculated based on the information that appears on your credit report, so certain errors and mistakes may really cost you on your credit score. Here is a couple of things that should always be correct on credit reports:
– Late payments, charge offs, collections, and other negative items that don't belong to you
– Credit limits that appear on your report as lower as they really are
– Accounts that are listed on your report as 'settled,' 'paid derogatory,' 'paid charge off,' or anything other than 'current' or 'pad as agreed' if you paid in full and on time
– Paid accounts that still appear as unpaid or that are included in a bankruptcy
– Negative items that are older than 7 years old that should have automatically fallen off of your credit report.
Jessica Williams is Consolidated Credit's Marketing Communications New Media Coordinator. As a member of the education team, Jessica focuses on helping consumers make better financial decisions while living debt-free. She has previously worked with Take Stock In Children, where she was a mentor and communications specialist, and SouthPromo.com, where she managed community relations, event planning, marketing, and public relations. Jessica attended both the University of Florida and the University of Central Florida where she received her B.S. in Interpersonal/Organizational Communications and Marketing. Connect with Jessica on Google+
---