Avoid going broke during wedding season
The start of summer is nearly here and for most people that signals the beginning of an exciting, but costly time – wedding season. Most people look forward to weddings, all the dancing, good food and great company that follows. However, the cost of celebrating the happiness of your friends and loved ones can often come at a high personal cost for your bank account.
Newly released data from the American Express Spending and Saving Tracker found that 69 million people will attend at least one wedding this year, and individuals spend an average of $539 on each one once travel, attire, gifts and parties are factored in. Christopher Sledzik recently spoke to CNN Money about the 12 weddings he attended in the past 18 months, and noted that he is now facing $10,000 in credit card debt as a result. While your friends may want you to be present on their big day, it's unlikely they want you to go into debt because of it, so consider the following ways to help keep your finances intact this wedding season: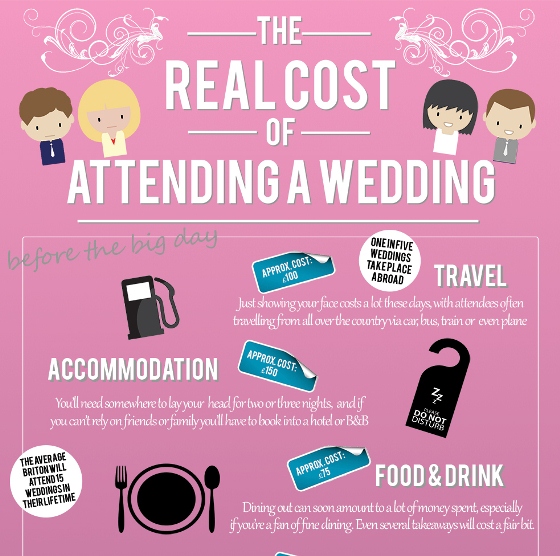 1. Travel smart
Taking a flight to an out-of-state wedding may be more convenient, but it might not be as economical as driving or taking the train. In some cases, it may be better on your budget to take a short-road trip, especially once fees and baggage costs are factored in. If you have to fly to reach your destination, it may be best to book your flight as soon as you receive your invite, which – if you have good friends – will be several months in advance. This should give you enough time to seek out the best deals and compare costs to get the most affordable rate. 
2. Recycle clothing
While you may not want to upstage the bride, you might secretly want to come close to it. Weddings are often an excuse to shop for a new dress, new shoes, new hair accessories and more expensive make-up, but one night of looking amazing is unlikely to matter much when you're trying to pay off a large credit card bill. Instead, consider recycling an old dress you haven't worn in years, and accessorizing more creatively. Borrowing a dress from a friend is another affordable option. 
3. Don't go overboard with swanky hotels

Instead of seeking a room in a five-star hotel, consider bunking with a friend who lives in the area or going in on a room with another guest. This will not only give you the chance to make some memories with new and old friends, but will also save you a great deal of money. 
---