Updating Your Wardrobe on a Budget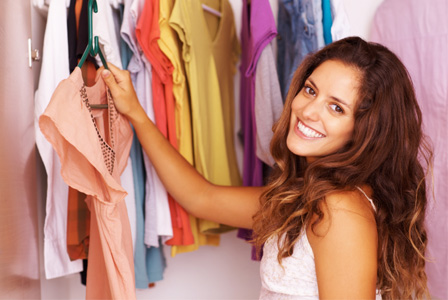 Summer clothes are flirty, fun and fabulous, but by the time Fall rolls around, you won't be able to wear your Capri pants, sundresses and sandals.
This is an ideal time to go through your closet and sort through clothes that you can do without or have not worn in a few seasons to make room for some new Fall finds.
However, there's always the problem of budgeting. You don't want to spend a fortune updating your wardrobe because all that money can be put toward something else.
To avoid throwing off your monthly budget, the frugal savvy experts at Miss Money Bee have developed several shopping tips you can follow to revamp your closet on a dime.
1. Shop for pieces you can mix and match
One of the biggest – and costliest – mistakes you can make when you're wardrobe shopping is picking out items that only work for one outfit or for one season out of the year. Instead, choose tops that can be matched with blazers for work, fun belts and jewelry for going out or a basic pair of jeans for when you're going casual. It can also be helpful to make a list of the items you already have to avoid buying similar pieces. Take inventory of dress pants, skirts, dresses and tops to figure out what you're lacking.
2. Take advantage of sales
Shopping near the end of the season will yield you the best sales prices, but don't neglect weekend blowouts, holiday discounts or one-day events when you're shopping. You can also get great prices and find pieces that aren't in stores if you shop at outlet malls.
3. Sell old clothing to fund your new purchases
When you clean out your closet, avoid tossing unwanted items in a bag and tossing them. Instead, sell them on eBay or at a yard sale to make some money. You can put these funds toward your new wardrobe so you won't feel like you're spending as much.
4. Purchase accessories
You can wear a simple black dress to every type of occasion if you know how to accessorize it. The boots, jewelry, belts, purses and hair accessories make the outfit, so set aside some of your money for these purchases. Never underestimate what a good makeup collection can do for an outfit. If you're running low on necessities, visit a department store to see if you can try new free samples to add to your makeup collection.
---