When the Clock Strikes Midnight….Where Will You Be?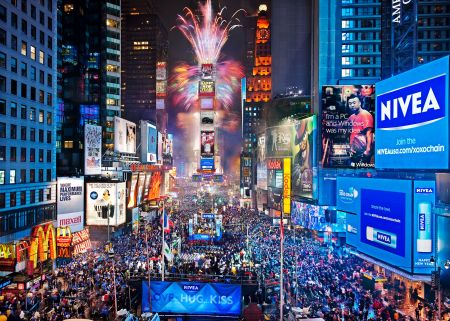 All across the United States people are gearing up for their 2012 New Year's celebration. With some of the greatest party cities right in our backyard, I put together a list of this year's top New Year's destinations. Each of the cities on the list have something unique to offer, whether you're looking to rage all night or bring the whole family.
Top 2012 New Year's Destinations:
1. New York City, NY: Debatably, the most famous New Year's Eve celebration in the world, New York City will guarantee you an once-in-a-lifetime experience. Over 1 million spectators will flood the city on December 31st to watch the crystal ball drop at the stroke of midnight. Living up to every bit of its nickname, the City That Never Sleeps, makes the top of our list.
2. Walt Disney World, FL: A little more family-oriented, this sunny destination offers fireworks galore. Disney goes all out for their New Year's festivities kicking things up with a double dose of pyrotechnics rocketing above Cinderella's Castle.
3. Key West, FL: As the Southernmost point in the United States, this city offers not one but three specific Key West events. Putting its own spin on the traditional Times Square countdown, you're guaranteed to laugh into 2012.
4. Atlanta, GA: Deemed the largest New Year's Eve celebration in the Southeast, Atlanta's Peach drop event is one-of-a-kind. 2012 will be the 23rd year more than 100,000 revelers partake in the all-day New Year's festivities. Each year is slightly different but you can expect carnival rides, vendors, live music and of course the much anticipated Peach Drop.
5. Miami, FL: Miami offers a whirlwind New Year's celebration with parades and festivals all along the beautiful sandy beaches. Start off in Coconut Grove for the 30th annual King Mango strut Parade and enjoy performances from your favorites such as Cee-Lo-Green and Ne-Yo at the Orange Drive Miami Music Festival.
---