Holiday Spending Predictions: A prediction for 2012 economy?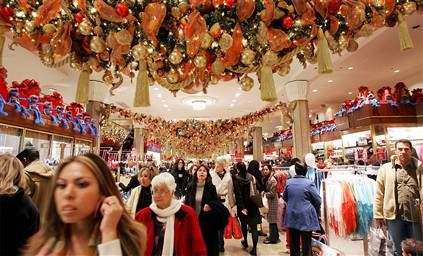 With job growth basically non-existent and the unemployment rate continuing to hover around 9 percent, economists are wondering if people are going to show up and 'stimulate' the economy with holiday shopping this season or stay home.
According to a Gallup poll released last month, Americans are estimated to spend $712 on holiday gifts, almost the identical amount that they spent last holiday season – $715. Many economists are saying that they are not expecting a decline in holiday shopping spending but instead a flat or slightly up prediction.  Many are categorizing this data as not bad or good, but rather neutral due to the fact that 2008 and 2009 holiday retail sales numbers actually declined due to the recession.
Other polls, including the Holiday Consumer Intentions and Actions Survey conducted by BIGresearch for the National Retail Federation (NRF) expect holiday retail sales to grow slightly by 2.8 percent during November and December to an estimated $465.6 Billion.
With the NRF expecting holiday shoppers to shell out an average of $704.18 on holiday gifts and seasonal merchandise, down slightly from last year's $718.98, retailers are taking extra measures to entice Americans by rolling out major price cuts and charming marketing campaigns.  Some major retailers and mall outlets have already announced that they will be open for 24 hour periods and will allow Black Friday shoppers to start their shopping at Midnight rather than their standard 5am time.  With median household incomes on the decline, many people are unsure if they are going to be able to pay their bills and still afford the expenses that are associated with the holidays.  Toys R Us has noticed lackluster sales and has for the first time ever has offered a early edition of Cyber Monday sales by giving all shoppers 25 percent off toys purchased online for one day only.
Only time will tell how Americans will actually spend this holiday season, but many experts and retailers are not expecting huge profits or a significant drop in retail sales amidst rumors of a double dip recession.  With GDP up 2.5 percent in the third quarter due to higher consumer spending, the likelihood of a double dip recession is not expected and shoppers are expected to show up, even if they are frugal and precautious with their money.
---