5 Awesome Tech Trinkets for $100 or Less
Black Friday is nearly a week away and with several major stores opening their doors at Midnight on November 25th instead of the standard 5am or 6am. MissMoneyBee.com wants you to know what awesome items you can snag for yourself and others on the biggest late night shopping day of the year without breaking the bank.
1. The Kindle – The Kindle starts at $79 and weighs less than 6 ounces.  It's Amazon's great alternative to dropping $500+ on an iPad and has most of the same functionality.  Wi-Fi is built into this gadget and it's a great way to utilize Amazon's 800,000+ books that cost less than $10 per book.  The Kindle is so affordable because they offer some ads throughout the system. You can also electronically 'borrow' books from your public library through this affordable item.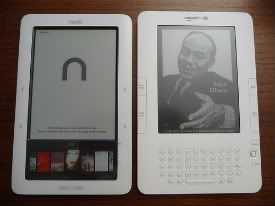 2. The Nook Simple Touch – This is Barnes & Noble's version of a tablet and costs a $99. There are no ads and it weighs 7.5 ounces, still small enough to take with you on the go or when you travel. You can also borrow books from your library and access paid-for books via Barnes & Noble's 2.5 million database.
3. Livescribe Echo Smartpen – This light, great battery life pen may cost more than your average writing utensil but is super cool and can help any high school or college student get through class with better ease.  It starts at $100 and allows you to scribble your notes and drawings on special paper and then upload that work onto a computer.  This high-tech pen not only writes like a regular pen but also records lectures and can transcribe those notes/lectures into editable text.
4. Vizio Vsb205 32-inch Class Home Theater Soundbar – This great gadget will let you get that surround sound feel for a third of the price while minimizing clutter. This soundbar is perfect for 32-inch HDTVs and larger while providing exceptional clarity and definition.  This item can be found on eBay for $74.99 or in Target or Amazon.com for $99.99.
5. The Tocky by Nanda Home – You will never sleep in again thanks to this cool alarm clock that costs $69.  This gadget not only wakes you up on time, but it also rolls off your nightstand and across the floor so you can't hit the snooze button.  Tocky is outfitted with a microphone so that you can record your own sounds as well as allows you to upload MBP3's.
---